Historical building in Onteniente Valencia (2200m2)
1.600.000€
Beschrijving
Historical building in Onteniente Valencia
This property is very close to the town, constituting a rustic island within the urban core. Being a short walking distance from the municipal sports center, university, train station, supermarket … etc
​Situated on a beautiful plot of 19.880m2 of a land with almond, olive and many fruit trees, and with a constructed surface of 2246m2 the villa "Heredad de los Rodríguez de la Encina, Barones de Santa Barbara" resists. Consisting of 15 bedrooms, 6 bathrooms and many out buildings.
It is made up of various buildings, including the main residence (Masia) , chapel, warehouses and guest houses. It is building over three floors it is massively detailed and a truly unique property. The property offers swimming pool.
The main house extends along the first floor. A wide, austere staircase reaches the entrance door, it is worth mentioning the family coat of arms that presides over this historical heritage protection entrance (BIC).
​I​nside there are a series of ​lounges, the dining room, this spac allows room to accommodate a large number of guests, a very characteristic fireplace, a detail to mention are the ceramic floors with the shield of the marquisate and the beautiful floors of the time.
A large number of rooms and bathrooms complete this floor.
Already on the ground floor we find a large diaphanous space (​a blank canvas)​
there are also areas where the olives was ground to create oil and several stables
​Construction and planning. We invite you inspect may of our construction and renovation projects, and as always client references are available.
INFORMATION ABOUT THIS AREA
The town of Ontinyent with a population of 35.500. Located 382 m. of altitude, in the western part of a valley surrounded by mountains, in the province of Valencia. It is located between the Agullent-Benicadell mountain ranges to the south and the Serra Grossa mountain to the north, forming the region of the Vall de Albaida of which Ontinyent is its capital. In Onteniente we can find all the daily amenities.
From Valencia, this town is accessed through the A-7 to link with the CV-40 and finalize in the CV-650. It has a railway station belonging to line 47 of Renfe Media Distancia, also known as the Valencia-Játiva-Alcoy line.
Overzicht
Grootte 2.246 m2/24,175.72 sqft

Landgrootte 19.880 m2/213,986.33 sqft
Additional details regarding this property
Property condition

In needs of updating. There are some room in a better state of presevation than others

Property style

XVIII centry Palace
Easy access to amenities

Easy access to schools (private/public)

Excellent motorway access

Garage

Gastenverblijf

Good access roads

Mogelijkheid voor rolstoelgebruikers

Omheind terrein

Outdoor dining areas

Zwembad
Vergelijkbare huizen die je misschien leuk vindt
599.000€
5
Slaapkamers
6
Badkamers
387 m2
Grootte
2.568 m2
Perceelgrootte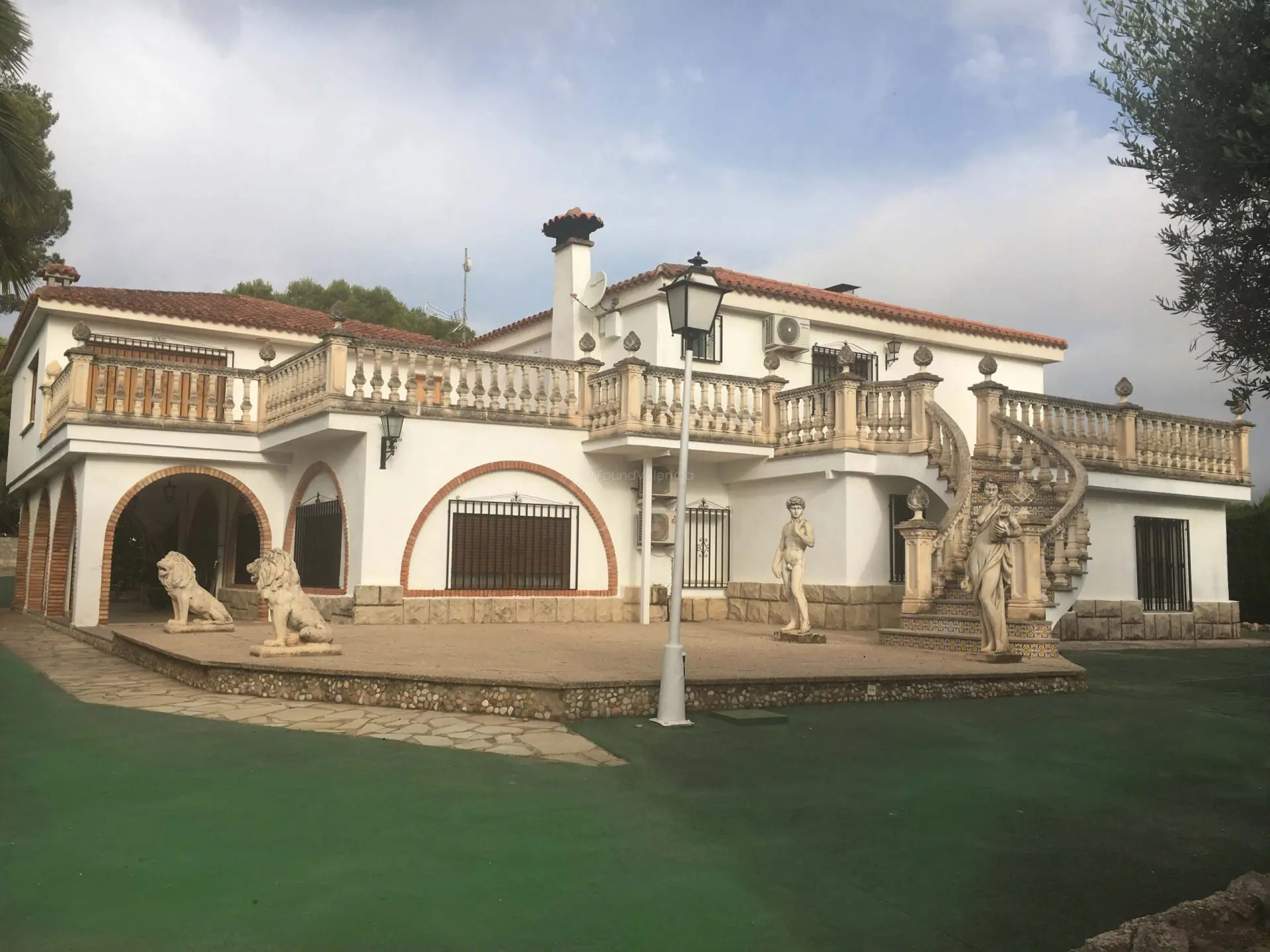 Te Koop <span style="background-color: #1b4965" class="g5ere__property-badge g5ere__term-label post_date ?> 18-11-2023"> Luxury
1.355.000€
3
Slaapkamers
4
Badkamers
1.000 m2
Grootte
5.000 m2
Perceelgrootte